Find Out What is The Best Kind of Lube for You at Your Local Adult Store in Fredericksburg, VA
Wondering what is the difference between water-based & silicon lubricants? You are not alone. At Adam & Eve, we are here to improve your pleasure by helping you choose the right products. Discover how to make sex better with our selection of Oils, Lotions and Lubricants. Enhance your senses with tingles, warm sensations or various flavors. Find lubes that enhance stamina to make your pleasure last all night long, or simply improve friction with our water-based sex lubes.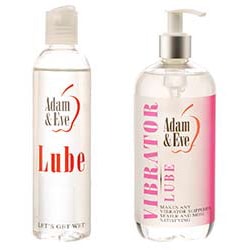 If you have to purchase only one lube you should consider Water-based lubes. Unlike other lubes, water-based lubes don't stick or stain and are easy to clean. If stickiness and having to do long clean ups is a turn off for you, water-based lubes are the solution. They are compatible with condoms, all sex toy materials. They are also available in a great number of scents ranging from strawberry to vanilla. The only draw back to water based-lubes is your skin will slowly absorb it, meaning that you may have to re-apply in the heat of the moment. If you are looking for longer lasting sex lubricants, you may want to look at our Silicon Lubes.
But like any cream that your skin absorbs you need to make sure you purchase only the best quality; you don't want to put bad chemicals under your skin. Most of our lubes are hypoallergenic, glycerin-free, paraben-free and free of preservatives, and some also have particular characteristics. If you browse through our products you will be surprised by the number of benefits our lubes have. Our Aloe Vera based lubes nourish your skin, the ones with arginine increase erogenous zones and the ones infused with pheromones increase your level of arousal.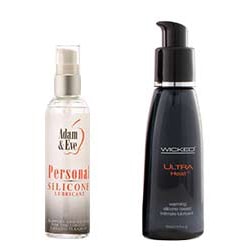 If you find water-based lubes too limited for your passionate nights, silicone lubes are the solution. Safe for all kinds of sex these lubes were developed with your pleasure in mind. They tend to feel thicker than water-based lubes, but their interest does not only reside in their different texture. They take a lot more time to dry up, allowing you to enjoy your longer love sessions without any interruption. Silicon lubes also work under water allowing you to experience intense lubrification in all kind of situations. They are also great for anal and vaginal sex.
On the downside they tend to be bit more difficult to clean and are not compatible with silicon sex toys.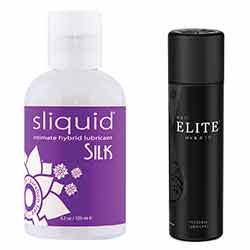 You don't know which one to choose from? You don't want to settle and make any compromises. Don't worry we have the solution with our Hybrid Lubes that combine the best of both worlds, they last longer like silicone lubes but add the ease of use and natural hydration and benefits of water-based lubes. You will love the smoothness and the feeling they give you. Like Silicone Lubes they are not compatible with silicone sex toys.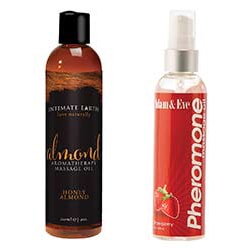 Do you have a desire to explore new horizons with your playmate? Massaging oils are a thrilling way to change the way you and your partner interact with each other physically while enjoying a slower pace. Imagine the feel of your partner's hands going through every sensual part of your body giving you a deeply satisfying massage. Massaging oils will help you relax and slowly build up desire. Our erotic massaging oils offer a lot of different kinds of effects that will stimulate all your senses for passionate nights. From edible coconut oil to pheromone-based oils they will help you enjoy powerful sexual tension in numerous kinds of ways. If you desire to explore what our oils have to offer don't hesitate and click on the link below or come into your local Adam & Eve store in Fredericksburg.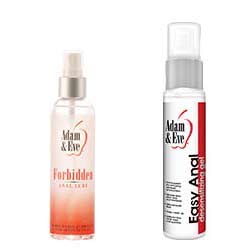 Whether you are new or experienced to anal sex you will need a good form of lubrification. You really need to make sure that you have the best lube possible. Indeed, unlike vaginal sex, anal sex needs lubrification since your anus does not self-lubricate, on top of that your bottom is also really sensitive to pain. In this section you will find lubes that have been carefully selected for anal sex. They are thicker to increase friction as much as possible and extra-long lasting to allow you to reapply as little as possible, some even have numbing agents like Benzedrine. Just make sure that you do not get a silicone lube with your silicone toys.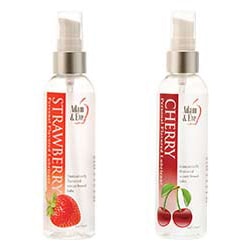 If you are looking to make your oral sex tastier, you have to try our delicious flavored lubes. The most popular flavored lubes are off course fruit flavored ones like Peach or Strawberry. But did you know that you can vary tastes even under the blankets? Do you have a sweet tooth? Try our Frosted cake or Whip cream lubes. Your partner will have never tasted so sweet. Unless you are more of Banana Cream pie type of person. But make no mistake these flavored lubes do not only taste good but also bring every benefit other lubes can give you. Looking for a water-based that tastes like salted caramel with hydrating properties we have it. Looking for an anal lube that tastes like a strawberry we have it as well. If you would like to discover every single flavor we have to offer don't hesitate to swing by your local Adam & Eve in Fredericksburg.
Female Sexual Enhancement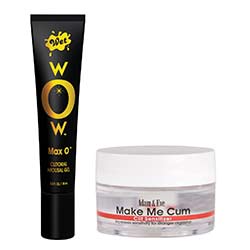 At Adam & Eve we want to find the best products for your complete satisfaction. We have tested and tried every supplement and enhancer we could find with the excitement of your erogenous zones in mind. And we can now propose you the best products for your personal pleasure and libido. You can be sure that no matter which one you pick you will achieve new levels of satisfaction. Enhancers come a lot of different forms: topical creams, gels, lotions, massaging creams, enhancement pills… And give you a plethora of different feelings. Click on the link below and come and discover our enhancers.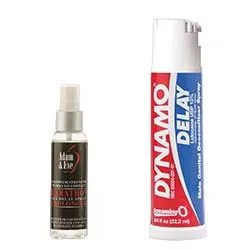 If you are looking for information on the best male enhancement pills, sprays, delay gels… Click on the link below to find our dedicated page.