FIND BRA AND PANTY SETS | Fredericksburg, VA
CROTCHLESS LACE-UP SHORTS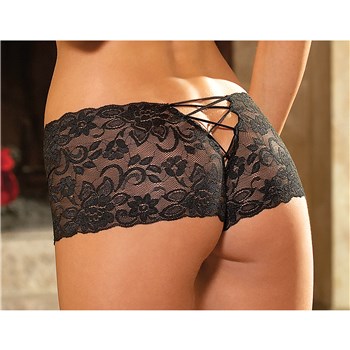 Sexy And Form-Fitting, These Tight Little Shorts Panties Will Make Your Rear Look Stunning.
The Sexy Lace Will Hug Your Bottom And Hips Closely. These Cheeky Panties Have A Lace-Up Backing To Help Accent Your Rear For Maximum Sex Appeal! These Sexy Panties Also Come In Plus Sizes Hugging Your Every Curve Closely. If You're Looking For An Especially Naughty Touch, These Shorts Are Crotchless So You Can Surprise Your Lover With A Naughty View Whenever You Open Your Legs!
These Crotchless Lace-Up Shorts Are Made Of Nylon And Spandex.
OPEN FOR BUSINESS CROTCHLESS PANTY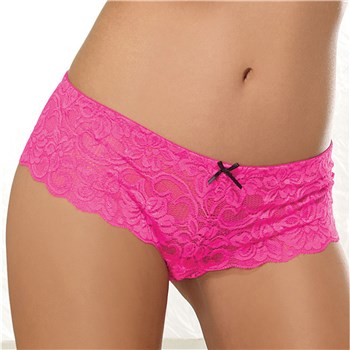 Get Your Cheeky Low-Rise On!
Your Soft Nylon/Spandex Lace Open For Business Crotchless Panty Will Give Him Something To Talk About!
These Sexy Panties Are Sassy And Feminine All At The Same Time, This Panty Feels Great –– With The Gentlest, Classiest Crotchless Design We've Ever Seen. Feels Extra Sexy Under Clothes, Not To Mention In Three Different Colors This Panty Looks Outrageous All By Itself!
An Elastic Waist Makes Slippin' This Naughty Number On And Off A Total Breeze! Pert Black Bows In Front And Back Say "Play With Me," So Throw Out Those Granny Panties And Order Now. It's Easy To Care For Your Open For Business Crotchless Panty. Hand Wash In Cold Water, Then Lay Panty Flat Or Hang To Dry.
IRRESISTIBLE CROTCHLESS LACE PANTY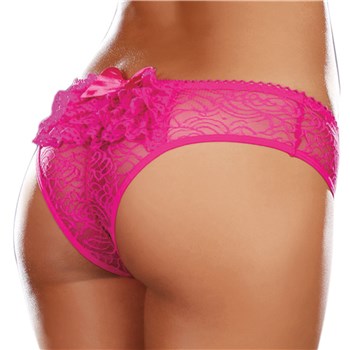 Tease Him With Your Sexy Bottom In Rows Of Lace Ruffles And A Little Satin Bow, These Cheeky Panties Are Sure To Please! These Pink Panties Are All-Over Lace And A Must Have In Your Crotchless Panty Set. Add A Pair Of These To Your Sexy Plus Size Panties With Sizes Reaching Up To 4x, Or Slip Into A Seductively Small Pair Of These Nylon Panties, They Also Come In Black If Hot Pink Isn't Really Your Style. 100% Nylon. Imported.
CROTCHLESS LACE UP BACK PANTY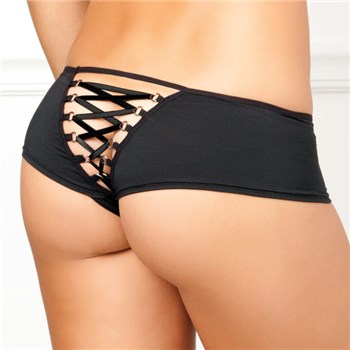 Get Cheeky In This Crotchless Cutie!
Soft Black Microfiber Makes This Panty Comfortable Enough For Everyday Wear. But The Scandalous Bun-Flashing Corset Style Back Lets Your Lover Know You're Ready To Pounce. Crotchless, So You Can Get Busy Without Getting Undressed.
Crotchless Lace Up Back Panty
In Soft And Stretchy Microfiber
Corset-Style Ribbon Back
Lightweight Metal Corset Rings
Crotchless For Easy Access
Polyester/Spandex
Imported
Looking For Some Scandalous Satisfaction? Then Slip Into A Pair Of The Cheekiest Crotchless Panties Ever! The Crotchless Lace Up Back Panty's Slinky Microfiber Feels So Good Softly Hugging Your Hips. Then Just Turn Around To See The Great Rear View. This Crotchless Panty Shows Off Your Lower Booty To Make Your Rear Look Perky. A Corset-Style Back Hints At What's Underneath. The Smooth Satin Ribbon Is Permanently Looped Between Small Smooth Metal Rings That Keep It All In Place—No Matter How You Shake Or Shimmy.
Make The Crotchless Lace Up Back Panty Your Choice For A Private Dance Or A Special Sexy Evening. Since This Panty Is Crotchless, You Can Even Wear It During Sex. Also Try Wearing This Crotchless Panty Alone Or With Your Favorite Scandalous Corset Or Bustier!
Wash The Crotchless Lace Up Back Panty By Hand In Cold Water. Line Dry.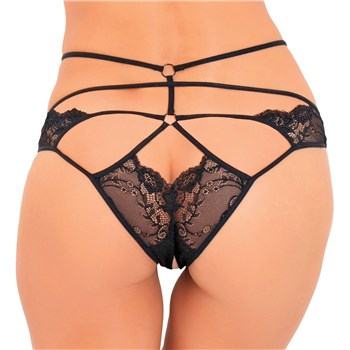 Nothing Says Sexy Like This Crotchless Panty!
This Skimpy Panty Pairs Floral Lace With Straps To Create An Irresistible Look!
The Own It Panty Features Intricate Straps In The Front And Rear For A Caging Effect Making It A Very Cheeky Panty And Helping To Highlight Your Hips And Lady Bits. Floral Lace In The Front, Back And Along The Sides Adds A Softer Flair Along With A Revealing Keyhole In The Rear. And The Panty Is Completely Crotchless So You Can Leave It On… Even While Having Sex! The Own It Crotchless Panty Is Made From Nylon And Spandex. Wash The Imported Panty By Hand In Cold Water And Lay It Flat To Dry After Wearing It.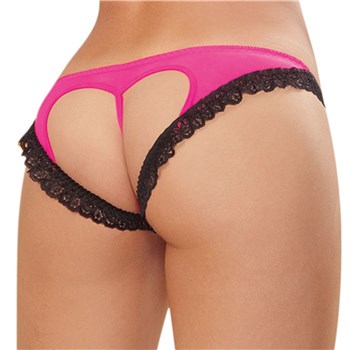 Your Heart-Shaped Booty Will Feel The Love! There's Never Been A More Cute 'N' Adorable Tushy Teaser Than Your Heartbreaker Panty! In Front, Sensual Soft Stretch Lace Kisses Your Hips –– While In Back The Same Lace Creates A Heart-Shaped Butt Lifter Panty That Will Get Pulses Racing. That Heart Shape Stays In Place Thanks To A G-String Back. Add The Heartbreaker Panty Into Your Lingerie Mix Or Just Wear It As Is With Matching Heels For The Complete Heartbreaker Effect.
Heartbreaker Panty
An Amazing Open Back Panty Look
Stretch Mesh With Stretch Lace Trim
G-String Holds Heart Shaped Rear Perfectly
Made From Nylon/Spandex
Imported


Considering Its Unique, One-Of-A-Kind Sexy Look, The Heartbreaker Panty Is An Awesome Lingerie Value –– And It Makes A Great Gift, Too! To Keep Your Heartbreaker Panty Looking And Feeling Like New, Just Hand Wash In Cold Water And Line Dry.
CROTCHLESS LACE 'N DOTS PANTY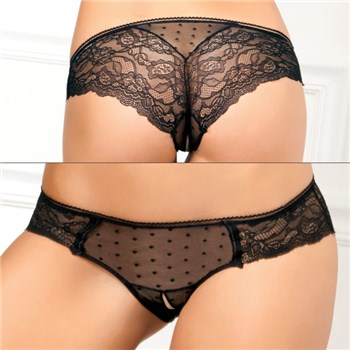 Lovely Lace Enhances Your Derriere!
Put Your Erotic Delights On Display In This Classically Sexy Crotchless Panty. Ornate Flower-Patterned Stretch Lace Sculpts To Your Hips And Rear. In Front And Back, Dotted Mesh Adds A Modern Style. Crotchless, So You Can Keep This Look On When The Heat Turns Up.
Crotchless Lace 'N Dots Panty
Classic Lace Crotchless Panty
Stretchy For A Sculpted Look
Ornate Flowered Gallon Lace Clings To Rear
Mesh With Tiny Dots In Front And Back
Crotchless For Easy Access
Nylon/Spandex
Imported


Whether It's Midnight, Midday, Or You're Just In The Mood For Some Serious Seduction, This Is The Perfect Panty For Pleasure. The Crotchless Lace 'N Dots Panty Slips On And Clings To Your Body With Gorgeous Ornate Stretch Lace. In Front And Back, Dotted Mesh Panels Invite Your Lover To Touch. This Classic Panty's Crotchless Opening Lets You Play In The Naughtiest Ways Without Taking It Off.
The Crotchless Lace 'N Dots Panty Is A Sexy, Classic Lingerie Look That Pairs Well With Many Pieces In Your Wardrobe. Wear This Sexy Panty With Your Favorite Bra, Bustier, Or Corset. You Can Even Slip It On Under Your Everyday Clothes For A Naughty Reveal Later On. This Stretchy Lace Crotchless Panty Is Comfortable And Lightweight, So It Stays Easy To Wear And Keeps You Feeling Sexy All Day Long.
Wash Your Crotchless Lace 'N Dots Panty By Hand In Cold Water. Line Dry.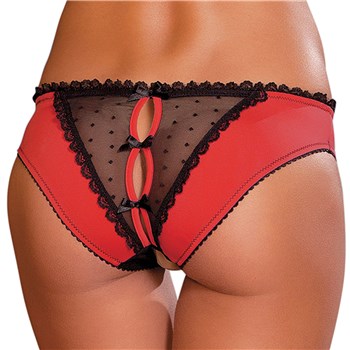 Have Crotchless Fun In Hot Pink Frills!
Turn Up The Heat In Your Bedroom With These Hot Pink Panties! Sexy Black Lace Frills Add Mystery And Glamour, While Silky-Soft Hot Pink Microfiber Hugs Your Hips! This Crotchless Panty's Polka-Dotted Black Mesh Parts In The Front To Give You And Your Lover Easy Access For Anytime Fun! In Back, Tiny Bow Accents Let The Material Peek Open To Flash Glimpses Of Your Sexy Derriere.
Crotchless Frills Panty
Hot Pink Microfiber With Black Mesh And Lace Accents
Crotchless Panty Front For Easy Access
See-Through Polka-Dotted Mesh Front And Back Panels
Lace Accents And Waistband Add Classic Lingerie Style
Black Bow-Tied Slits In Back Of PantyHand Wash Cold
Polyester/Spandex MicrofiberNylon Mesh And Lace
Imported
Take A Sexy Spin In These Hot Crotchless Panties – But Don't Be Surprised If They Spark A Wild, Passionate Encounter! The Crotchless Frills Panty Is The Perfect Way To Communicate Wordlessly To Your Lover That You're In The Mood For Love – And You Want It Now!
Just Slip Into These Hot Pink Crotchless Panties And You'll Notice Immediately How Comfortable They Are To Wear. The Silky-Soft And Stretchy Microfiber Clings To Your Hips While The Sheer Black Mesh Front And Back Panels Feel Soft And Light As A Whisper. The Keyhole Cutout In Front Lets You Have Sexy Fun In These Crotchless Panties Anytime, Anywhere – Without Taking Your Panties Off!
In Back, Three Tiny Black Bows Hold Together Two Black Mesh Panels, Creating Three Slight Gaps That'll Bare Glimpses Of Your Hot Booty. Your Lover Will Enjoy Looking, And Touching All Of You When You Wear These Hot Crotchless Panties.
Clean Your Crotchless Frills Panty By Hand In Cold Water. Line Dry.
EXOTIC PEARL PLEASURES BOYSHORTS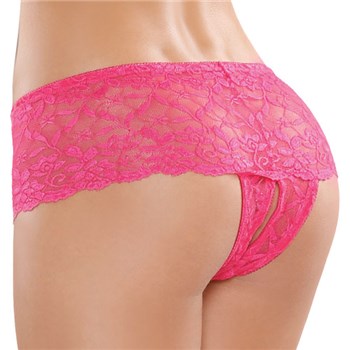 Tease Your Pink With Pretty Pearls!
These Hot Pink, Hip-Hugging, Boyshort Panties Hide A Naughty Secret: A Split Crotch Opening With A Strand Of Teasing Pearls! As You Move, The Smooth Faux Pearls Caress Your Sensitive Spots, Helping To Get You All Warmed Up For The Hot Night Ahead. Scalloped Lace Mesh Is Soft, Stretchy, And See-Through For Sexy Style And Comfort In Any Position.
Exotic Pearl Pleasures Boyshorts
Made From Soft And Stretchy Nylon/Spandex
Split Crotch Leaves You Open For Fun
Center Strand Of Faux Pearls Teases
Lightweight Flowered Lace Mesh
Scalloped Edges
Imported
Tease Your Lover And Yourself At The Same Time! With The Exotic Pearl Pleasures Boyshorts, You're Guaranteed To Have As Much Fun Wearing Them As Your Lover Will Seeing You All Dressed Up. This Sexy Panty's Soft Flowered Lace Mesh Clings To Your Hips In A Booty-Tastic Boyshort Style.
Down Below, A Split Crotch Hides A String Of Smooth Faux Pearls. Let Them Massage You As You Move, Or Part Your Thighs And Give Your Paramour A Show. When You're Ready For The Main Event, Move The Pearls To The Side And Take Full Advantage Of These Crotchless Panties. Exotic Pearl Pleasure Boyshort Also Come In Plus Size Panties.
Wash By Hand In Cold Water. Line Dry.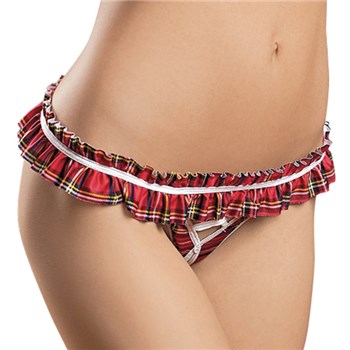 Sexy Coed, You're Staying After Class!
You'll Be In Dirty Detention Whenever You Wear This Plaid Crotchless Panty! Made From Smooth And Stretchy Nylon, Its Ruffles Circle Your Hips While A Criss-Cross Detail Draws Any Naughty Teacher's Eyes Down To The Crotchless Opening. Make Sure To Flash Your Buns In The G-String Back.
Plaid Crotchless Panty With G-String Back
Criss-Cross Details In Front Flash Your Skin
Crotchless Opening Lets You Play While You're In It
Booty-Baring G-String Back
Stretches For A Perfect, Comfortable Fit
Made From 100% Nylon For Super-Smooth Feel
Imported
One Size Fits 2 - 12
Spice Up Your Night With This Wicked Little Crotchless Panty! Whether You're Just Feeling Plaid Or Looking For The Naughtiest Role Playing Lingerie Ever, The Plaid Cutie Crotchless Panty Is The Perfect Choice.
Just Slip It On And Prepare For A Wild Time. Ruffles Give Your Hips Naughty Flair, And A Criss-Cross Opening In Front Reveals Plenty Of Skin. Bend Over The Teacher's Desk To Show Off Your Hot Buns In The G-String Back. Then Flash It All Through The Panty's Crotchless Opening!
Hand Wash Cold. Lay Flat To Dry.
CHEEKY LACE APPEAL HIPSTER PANTY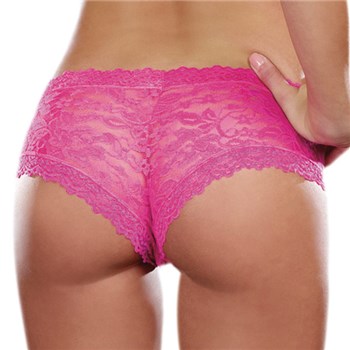 So Racy, So Lacy, So Revealing!
Be Effortlessly Sexy In A Pair Of Cheeky Panties, This Lacy Hipster Panty Is Perfect For Showing Off Your Curves. Made From Ultra-Soft Flowered Stretch Lace, That Feels Good Against Your Bare Skin. The Cut Sits Low On Your Hips To Show Off Your Curves, While The Cheeky Back Hugs Your Bottom For A Beautiful Rear View. Cotton Lining.
Cheeky Lace Appeal Hipster Panty
Hipster Cut Sits Low To Emphasize Your Curves
Full Coverage Cheeky Back Spotlights Your Booty
Made From Soft Flower-Patterned Stretch Lace
Cotton Lining For Added Comfort
Bow Detail
Nylon/Spandex
Imported
The Perfect Blend Of Sexy And Cool! The Cheeky Lace Appeal Hipster Panty's Clingy, Sheer Lace Is Scandalous Enough For Any Hot Bedroom Encounter. But The Soft Feel And Casual Hipster Cut Will Make It Your Favorite For Any Occasion. Slip It On For Instant Seduction Any Time, Any Place. These Cheeky Panties Will Become An Everyday Favorite In Any Home, When Your Lover Sees How Delicious You Look In Them.
Wash Your Cheeky Lace Appeal Hipster Panty By Hand In Cold Water. Line Dry.
LEOPARD CHEEKS OPEN HEART PANTY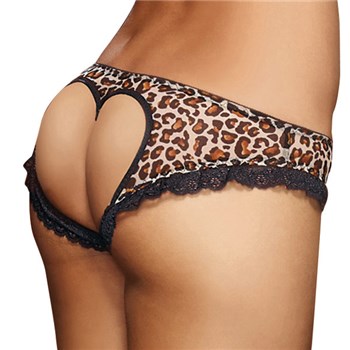 Cheeky Panty Flaunts Those Hot Buns!
Let Your Inner Wildcat Out To Play In This Stunning Panty! Ultra-Soft Leopard Print Mesh Reveals Your Animal Side. Turn Around To Flash A Heart-Shaped Cutout That Showcases Your Sexy Booty! Ruffle Details Add Flirty Flair While You're On The Hunt For Hot Sex.
Leopard Cheeks Open Heart Panty
Slinky Panty Made From Soft Mesh
Leopard Print Adds Animal Attraction
Heart-Shaped Cutout In Back Reveals Your Buns
Cheeky G-String Back Keeps It All Together
Black Ruffle Details
Nylon/Spandex
Imported
Be A Booty-Baring Animal! The Leopard Cheeks Open Heart Panty Is Tons Of Cheeky Fun. From The Front, It Looks Like A Classic, Sexy Leopard Print Panty. But When Glimpsed From The Rear – Wow! The Open Heart Design Reveals Your Gorgeous Butt. A Discreet G-String Back Preserves The Heart Shape No Matter How You Shake Your Moneymaker.
Wash Your Leopard Cheeks Open Heart Panty By Hand In Cold Water. Line Dry.
PLAID CUTIE CROTCHLESS PANTY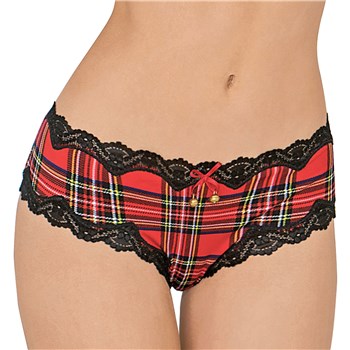 Jingle Those Bells In This Cheeky Panty!
Seasonal Item –– Limited Quantities In Stock. Order Now.
Ring In The Holidays In Regal Plaid And Black Lace Trim! Perfect For Lounging By A (Very Hot) Fire, Or Have It Ready Under Your Morning Robe!
Red And Black Plaid Microfiber Material
Black Lace Trim
Functional Jingle Bells Accent
Ruched Butt
Cotton Crotch
100% Nylon
Imported
Also Great For After-School Fantasies, Like Snow Day!
Considering Giving The Plaid Cheeky Panty As A Gift, But Don't Know Where To Start? Check Out Adam & Eve's "The Clueless Guy's Guide To Buying Lingerie" –– You Can Find This Guide Under Learn More Inside The Lingerie Tab!
Easy Care Instructions: Hand Wash In Cold Water, Lay Flat To Dry. Do Not Dry Clean. Do Not Bleach.
RED HOT LOVER'S FRENCH CUT PANTY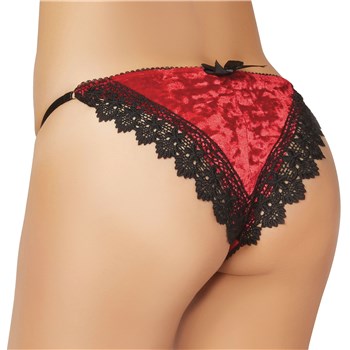 Lacy, Sexy & Velvety Soft!
Flaunt Your Bootylicious Best In This Super Sexy French Cut Panty! Ruched Red Crushed Velvet Gives Your Derriere A Cheeky Heart-Shaped Look. Black Scalloped Lace Dramatically Accents Your Curves. Soft And Stretchy Yet Undeniably Gorgeous, It's Perfect For Your Every Naughty Occasion.
If There's Romance And Seduction In The Air, Shouldn't You Be Dressed For It? The Red Hot Lover's French Cut Panty Slips On Easily Under Any Outfit. So When You're Ready, You Can Treat Your Lover To A Big Reveal. Or Try Pairing It With Your Favorite Black Bra Or Thigh-High Stockings For Even More Pulse-Racing Looks.
Looking For A Gift For That Special Someone? These Sexy Panties Make A Great Present. The Rich Velvet Feels So Good To Touch And To Wear. And While They're Very Sexy, They Also Provide Fuller Coverage. So If You (Or Your Giftee) Can Be A Little Shy About Showing Off, You'll Be Able To Rock This Hot Panty With Total Confidence.
Hand Wash Cold. Drip Dry. Made From Polyester/Elastane. Imported.