ROLE PLAY COSTUMES | Fredericksburg, VA
If you're looking to spice up your sex life, consider bringing some sexy lingerie costumes to compliment some of those role play ideas and role play scenarios. Maybe your partner has day dreamed of you in maid lingerie like those porn stars or for you to pretend to be a sexy call girl. Adding some of these spicy ingredients can turn a lap dance into an unforgettable experience. Whatever the fantasy, Adam & Eve has what you need to bring your role play dreams to life and to add some energy to your long term relationship!
BRING THOSE SEXY SCHOOL GIRL FANTASIES TO LIFE IN THIS COED UNIFORM!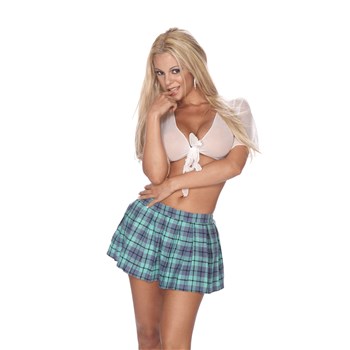 This Sexy Role Play Costume Is Sure To Put You At The Head Of The Class. Give Him A Sneak Peek At Your Nipples In The See-Thru White Tie-Top. We Encourage You To Show A Little Booty In The Sexy, Pleated, Blue Plaid Mini-Skirt! Every Bad Boy Loves A Sexy Coed – So Pick Up Your Adult Roleplay Coed Costume Today. Come To Us At Adam & Eve For All Of Your Role Play Costume Ideas.
LET HIM KNOW YOU'RE READY FOR SOME DICTATION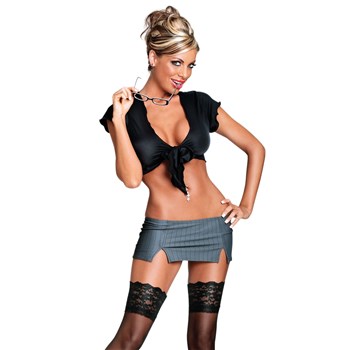 Swap Out Your Casual Fridays, For A Hot Saturday Night In. With This 2-Piece Office Scandal You're Sure To Be Holding More Than Just His Attention. Keep His Appointments With Ease In A Flirty Black Crop Top That's Open For Business. This Role Play Outfit Comes With A Micro-Mini Grey Pinstripe Skirt That Will Guarantee Many A Raise! With You As His Very Private Secretary, This Couples Role Play Costume Will Prove To Be One For The Books. Buy The Kinkiest Secretary Movie Yet To Help With Your Role Play Fantasies! Perfect Secretary 3: New Recruit Stars Chanel Preston In Her First Interracial Scene. Get The 2 Disc Set Now!
DRESS UP AS A SEXY MAID & LICK YOUR LOVER CLEAN!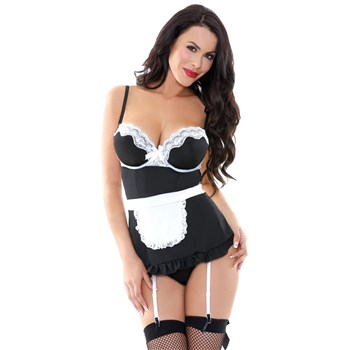 You'll Spend More Time Making Messes Than Cleaning Them Up With This Sexy Maid Bedroom Costume! Great For Fantasy Role Playing, The Naughty Service Maid Bedroom Costume Comes With Molded Cups That Are Fully Padded And Lined With Underwire To Give Your Cleavage An Impressive Boost. It Also Comes With An Apron-Cut Babydoll Trimmed In White Lace And Bows For That Classic French Maid Look And Style.The White Ribbon Belt Ties In The Back, Giving The Costume A Faux Skirt Even Though The Back Is Slit Down The Middle To Show Off The Ruffled Lace Panty.
The Black Panty Is Lined With Rows Of White Lace In The Back And Features Adjustable White Garters That Can Be Removed So That You Can Wear The Costume With Or Without Stockings, Which Are Not Included.
SHE'LL MAKE YOU FEEL BETTER FAST!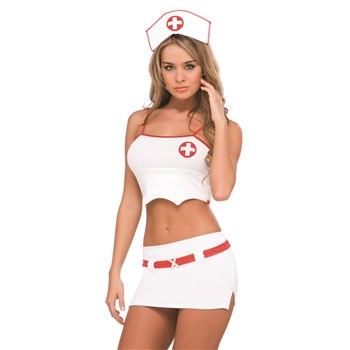 Does Your Mans Fantasy Include Seductive Sponge Baths, And A Sexy Nurse Who Can Cure Whatever Ails Him? Role Play Costumes For Guys Who Love A Naughty Nurse Are Available At Adam & Eve. Show Him Your Bedside Manner By Slipping Into This Sexy Three Piece And Give Your Man The "Special Treatment" To Heal All Of His Aches And Pains.
Looking For The Perfect Video To Watch During Your Nurse Roleplay Sessions?  Rose Valerie, Night Shift Nurse Is Just What The Doctor Ordered!  Buy The DVD Now!