TIRED OF BORING SLEEPWEAR? FIND SEXY NIGHTWEAR AT ADAM & EVE | Fredericksburg, VA
At Adam & Eve Fredericksburg we thrive to find garments that make you feel and look attractive. But sleepwear tends to have a very different objective, it is made to make you feel comfortable, warm and cozy. Usually the terms associated with Adam & Eve lingerie do not go well with nightgowns and pajamas. But your local Adam & Eve managed to find some of the coziest and sexiest loungewear available today. Now you can look stunning even when you lounge around your home. Our sleepwear collection ranges from sexy and cute pajamas to elegant and sensual nightgowns. Scroll down and discover what we have selected just for you.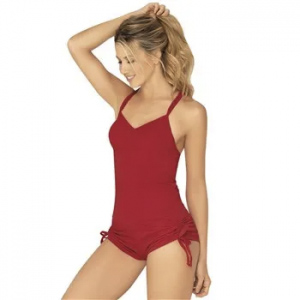 Get Rid Of Your Old Pajamas And Upgrade Your Sleepwear With These Sexy Pajamas. They Will Make You To Feel Cozy And Sexy During Your Evenings At Home. With Its Racer Back Top And Its Draw String Panties, It Won't Leave You Unnoticed In Front Of Your Partner. These Pajamas Are Made Out Of Cotton To Give You A Soft Feeling Against Your Skin And Elastane For Stretchiness Around You Curves.
COZY LONG SLEEVE SLEEP ROMPER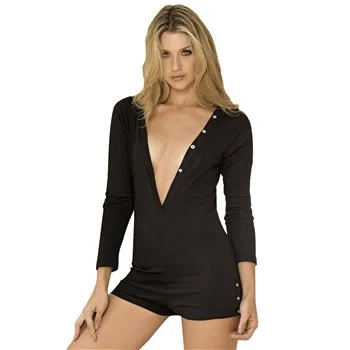 Effortlessly Sexy, With Its Super Soft Thick Fabric This Handmade Teddy Loungewear Will Keep You Warm During Fall And Winter Seasons While Making You Look Stunning. The Revealing "Décolleté" Will Give A Plugging View On Your Most Sensual Features. While The V-Neck Back Collar Will Give You A Feminine Look. You Will Grab Attention From Every Angle. Easy To Put On And Take Off This Stretchy Sleepwear Will Make Your Bedtime More Tempting And Seductive Than Ever. Order Them Tonight And Be Ready To Make A Delicious Surprise To Partner.
LINGERIE SLEEPWEAR KIMONO ROBE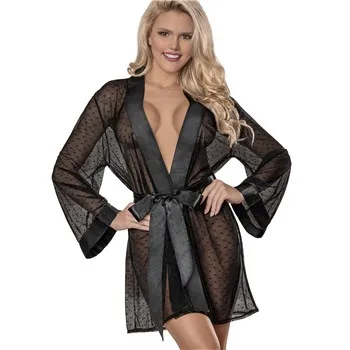 This Exotic Sexy Kimono Exists In Two Colors, Black And Purple. We Believe That Every Woman Should Own One Kimono Or Night Gown. They Are The Most Versatile Nightwear Lingerie You Can Find. Its Comfortable Loose Cut Combined With Its Point Mesh Fabric Makes It The Perfect Loungewear, For Your Nights At Home.
We Selected That Particular Kimono Because Of Its Amazing Details, If You Look Closely You Will See How The Different Fabrics Play With Each Other. The Attention Grabber Shiny Satin Will Make Sure You Are Noticed. While The See-Through Material Will Allow You To Display Your Most Provocative Lingerie While Adding Mystery To Increase The Tension. From Just Covering You Up On Colder Nights To Enticing Your Partner, This Black Kimono Will Make You Dazzling And Irresistible.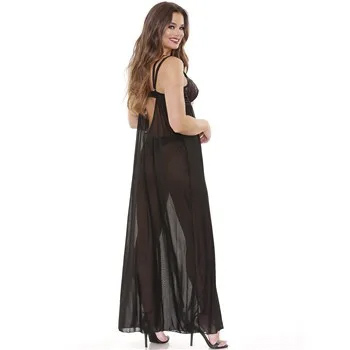 When We Reinterpreted The Classical Nightgown, We Wanted To Add A Seductive Touch To The Most Elegant Nightwear Lingerie. To Add That Seductive Touch We Added Two Of The Sexiest Features You Can Find In Modern Lingerie. First, We Wanted To Add Texture To The Dress And Make It Look Unique And Delicate. So, We Added Subtle Flower Lace Embroideries On The Cups To Attractively Highlight Your Breast In An Elegant Manner. We Also Changed The Classic Silk Material By A Combination Polyester And Spandex To Add A Softer Touch And To Make The Dress Slightly More Transparent To Give Hints Of Your Most Desirable Attributes.
The Result Of These Changes Gave Us Our Most Sensual Nightwear Achieving To Keep The Perfect Balance Between Elegance And Suggestiveness.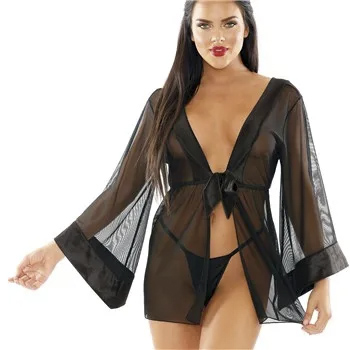 Ready For Something More Glamourous? If You Find Our Lingerie Sleepwear Kimono Robe To Covering For Your Liking. Our Sensual Black Kimono Should Leave You Fulfilled. It Will Display Every Single Detail Of Your Amazing Body. Its Lightweight Mesh Is Perfect For Warmer Temperatures;We Have To Admit That It Is Not Our Best Nightwear Lingerie To Keep You Warm During Colder Winter Nights. Unless You And Your Partner Will Create The Spark To Keep You Warm Across The Night.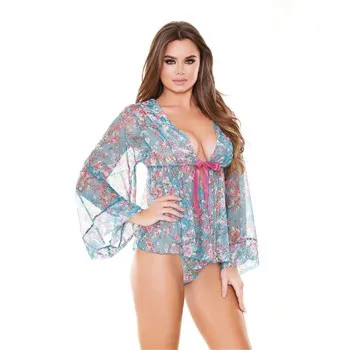 Our Summer Mai Tai Nightgown Is Perfect For Those Hot Summer Nights. Its Colorful Flower Pattern On A Turquoise Background Will Make You Look Sexy And Cute. While The Pink Satin Ribbon Allows You To Choose How Reveling You Want It To Be. If You Are Looking For Something Flirtatious And Enticing Don't Look Any Further And Click On The Link Below Tonight.