Spice Up Your Intimate Nights: Bodystockings in Fredericksburg, VA
Spice up your night with an Adam & Eve sexy body stocking. These body stockings are either designed in fishnet, or lace, and each bodystocking features an open crotch to ensure easy access for a pleasureful night.
Sexy Illusion Bodystocking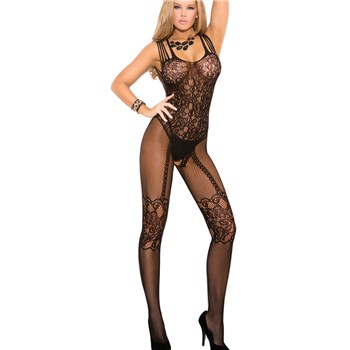 The sexy illusion body stocking is made to hug your body at every curve. This sexy bodysuit will help you bring out, and show off your sensual side. Intricately detailed, this bodystocking features a lace top, soft to the touch, and the look is completed with faux garter straps, to accent your hips and create that fishnet thigh high look that every girl loves. Fishnet stocking are designed to make women feel sexy and fishnet tights have always been a turn on, but nothing will turn him on like this open crotch fishnet bodystocking.
The over the shoulder straps on this body stocking help you conceal your intimate bodysuit under long sleeves, or even just a short sleeve dress, so you can surprise your man any time you please with the easy access open crotch, and alluring hidden lace top. The sexy illusion bodystocking will definitely become, not only yours, but especially one of his, favorite crotchless bodystockings.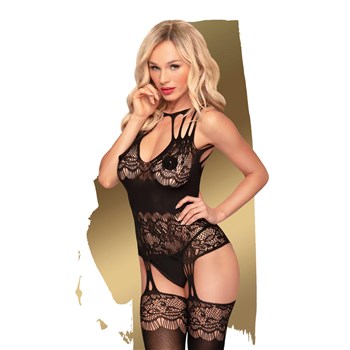 The Lace Seduction is one of the ultimate Adam & Eve intimates that you need on your list of must haves. This bodysuit is more than just a set of stockings, or fishnet lingerie. Made of lace, this open crotch bodystocking is delightfully soft to the touch, and stretches to caress all of your curves in thee exact right places. The plunging neck gives you the opportunity to conceal this sexy piece of lingerie under any piece of clothing, while still accenting and highlighting your breasts whenever you're ready to show it off.
The reveal of the intricately designed lace is your ultimate gift to him. The straps on the backside of this bodysuit not only help to show off your back in a sensual way, but doesn't distract from the way the suit puts your derriere on display, making this piece crotchless as well as buttless. The leggings are attached in a garter style that will be sure to make his jaw drop. Once he realizes he has easy access he will love the fact that this is an outfit he doesn't have to peel you out of.
Deep V Long Sleeve Fishnet Bodystocking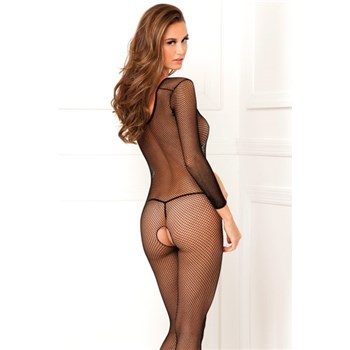 Deliciously Sweet Suspender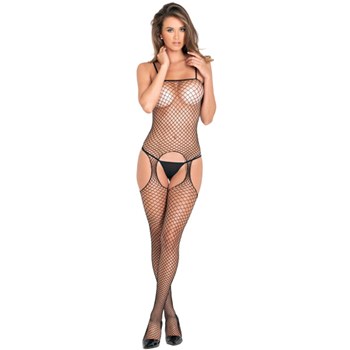 Take your fishnet stockings to a whole other level. The Deliciously sweet suspender is the perfect bodysuit when you only want give off the illusion of wearing fishnet tights. This fishnet lingerie has elastic straps over the shoulders, making this bodystocking easily hidden under your clothing, only revealing the pattern of the fishnet tights. It also comes with a suspender design leaving it open in the front or the back, and making it easy to wear with our without panties. It's a sexy look any time, without the need for garters, or fishnet thigh highs. This intimate piece also has an open crotch for easy access.
The top has just enough detail to tease while the skin tight, stretchy material clings to your cleavage, revealing just the right amount of skin on your chest and belly. You'll find many ways to tease, and please using the Deliciously Sweet Suspender bodystocking.
Seamless Crochet Net Bodystocking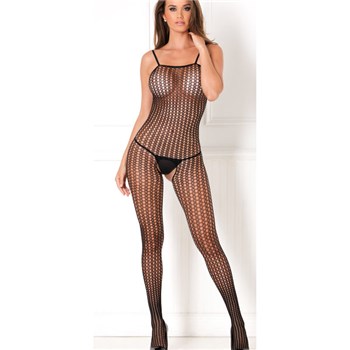 The Seamless Crochet Net bodystocking has a different approach to fishnet tights, instead of the traditional diamond shaped fishnet, this intimate lingerie has a circular crochet design that is sure to be a teaser as well as a pleaser. This sensual black bodystocking has a straight cut neckline with comfortable elastic straps that make the top easy to conceal, while the circular crochet design provides a sensual reveal of your breasts.
It's easy to see why fishnet lingerie is taking over the intimates in the bedroom, with a sexy look and feel that you can use to accentuate your wardrobe, the bodysuit is crotchless making it so much easier when you want to play, or need a little easy access.
Violet Stripe Suspender Bodystocking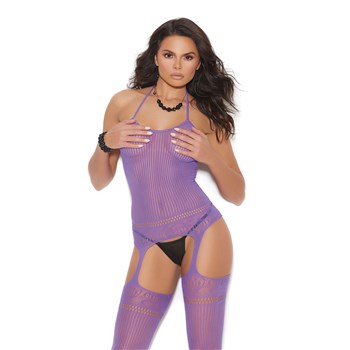 If you're looking for a bodysuit made out of a sheer material instead of the usual fishnet or lace, look no further. This bodystocking is made of a sheer material, so it looks more like you're wearing tights instead of fishnets. This bodystocking has a unique way of combining a tank and stockings with suspenders. Stretchy and sheer, this bodysuit plunges in the front to form a v-neck neckline, and bares your belly, beginning just under your breasts.
The back also plunges, leaving a most of your back bare, and accenting your behind with the suspender like pieces that connect the tank top to the leggings. This leaves the front, and the back, of this sexy bodysuit open in the crotch, and behind. Slip into something sexy today with the sheer seriously sexy bodystocking.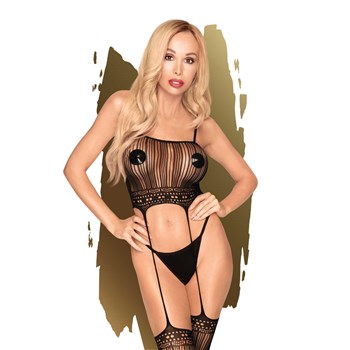 The indiscreet crochet bodystocking has an eye catching design that hugs your body at every curve. This bodystocking is different with a high collar neckline, and a low cut back that makes it all about the booty. The top ties behind your neck and mid back with a super low scoop line that leaves your back almost completely bare. Modest in the front, the back is a completely different story. Once you factor in the open crotch, this intimate piece is not only indiscreet but becomes simply immodest.
You will love the way this design looks against your skin, the open crochet style adds a more romantic flair than your usual sexy fishnet style bodystocking. Kick start your romantic weekend with this kinky little bodysuit.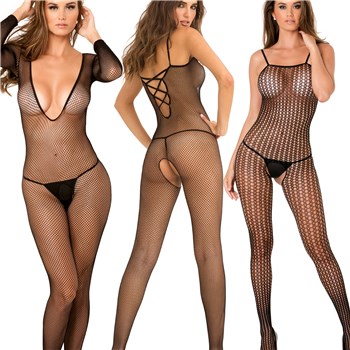 Finding the perfect bodystocking can be difficult with the many different styles, and options that Adam & Eve presents to you. Instead of deciding which bodystocking you want for that romantic getaway weekend, just buy yourself the Trio Bodystocking set, you won't regret it. You have options, and get three different style types, one for each night of pleasure. You get a deep v neckline from one set to really show off your cleavage, or you can settle down in the quarter crochet net bodysuit, for a different style of fishnet. Or keep it classy with the criss cross back strap fishnet style.
Three different bodystocking to choose from, and unlimited options for how you use them. All of these bodystockings are made of a stretch material that clings to your body with every move you make. They are also crotchless so you never have to take them off when things start to heat up. Spice up your intimate weekend with a variety of different styles in sexy bodystockings.