Bra and Panty Sets | Lingerie Sets in Fredericksburg, VA
All Night Pleasure 2 Piece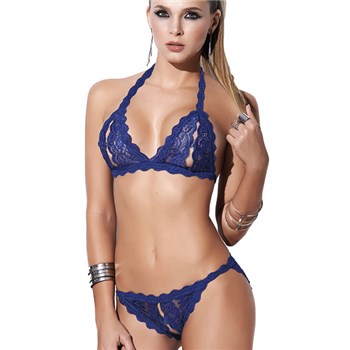 Dress like the racy vixen you are in this super-sexy two piece bra and panty set. Make every erotic minute mind-blowing with the lacy peek-a-boo bra, and crotchless panty set. Up top, the soft triangle cup bra has peek-a-boo cutouts to help flash your nipples. Just position the top's soft triangle cups over your breasts. Providing gentle support, this bra covers just enough to get him all hot and bothered. Tie the top behind your back, and neck for a custom fit, and then step into that sexy pair of crotchless lace lingerie underwear.
It is fully open in front ,and hooks at the top of the back. If you need a little more room , don't worry, you can unhook the top at the back of the panty. This fully front-to-back crotchless lace panty lets you play in any, and every, naughty possible way.
Naughty Temptress 3 Piece Set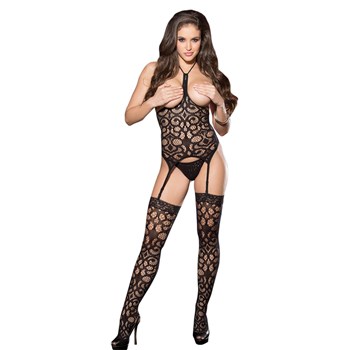 Your lover won't be able to keep their hands off you in this versatile lingerie set.
Made of fishnet this top is flexible, designed so that you can wear it with your breasts showing, or you can keep them covered up. Usually the top ties behind your neck and plunges down between your breasts for a revealing open-cup design. The top stretches to fit your body, creating a skin-tight, yet concealing look, if you don't like the open-cut design you can easily stretch the centerpiece over your breasts to cover them up for a tantalizing affect, giving you two sexy looks to choose from depending on the mood in the room.
The fishnet body has an intricate geometric design, complete with beautiful swirls, diamonds, and exotic shapes that will look positively stunning against your skin. This adjustable set has garters that attach to the top so that you can easily tweak them to specifically fit your needs.
The set also includes a matching G-String with fishnet front, and a scalloped-lace trim. The waist and back are made from stretchy elastic making this three piece easy wear. To top it all off, this sexy three piece set also includes matching stockings with lace tops and closed feet.
Sheer Beauty Bra & Garter Set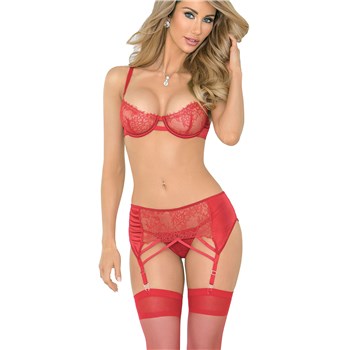 Silver threads bring this bra and panty set to life catching the eye with every sensual move you make. All three pieces of this beautiful lingerie set are detailed in exquisite floral lace, and outlined with beautiful shimmering silver threads. The bra features soft cups lined with underwire to gently shape and separate your breasts, and adjustable shoulder straps. This bra and panty set comes with a matching thong, and garter belt.
The garter belt also features floral lace accents, and adjustable straps that have a hook and eye closure. The eye catching features on this lingerie set are sure to leave your lover breathless, making this a favorite lingerie set for the both of you.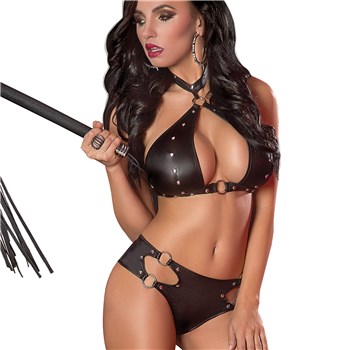 Discover your kinky side in this sexy, studded, two piece lingerie set. The smooth four way stretch material, makes this set comfortable in every possible position. The top comes with a choker neckline, and has a velcro closure to help you keep everything in place, or to help you with a quick reveal. The o-ring connects to the top which helps accent the keyhole opening.
The keyhole opening on this lingerie chest piece really draws the eye, baring plenty of cleavage. The stretch mini boy short has keyhole sides to help you show off those delicious hip bones. You can dominate in the bedroom with the right props, or choose to simply dress it up with your favorite pair of stockings. Either way this lingerie set is sure to be a success.
Cage Lace Bra And Garter Set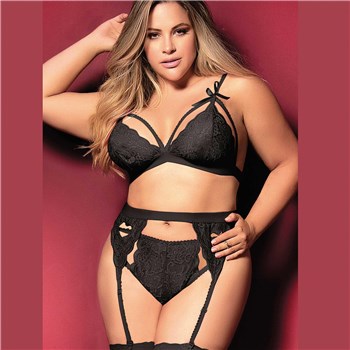 You can feel classy, and sexy in this elegant, crotchless lingerie set. Feel timeless in the soft lace, while still feeling sexy at the same time with the peek- a-boo bra, and crotchless panties. This classic beauty lingerie set has openings in all of the right places, giving you full access for whatever naughty fun you might have in mind.
The hip hugging lace garter belt has garter straps that attach to the included matching lace top thigh high stockings. The garter belt is stretchy, soft, and hooks in the back for easy removal.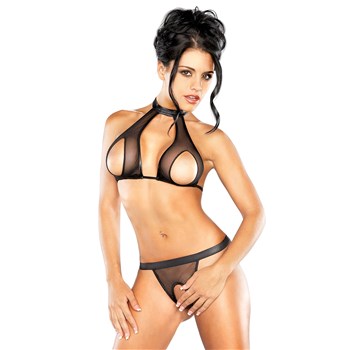 Get his engine going with this sexy two piece peek-a-boo lingerie set. The mesh on this little number adds to the intrigue of this bra and panty set. The neckline velcros behind the neck for easy adjustment, and helps keep the bra in place. The cupless halter bra helps boost your breast while showing off your nipples to help draw his gaze and really get his motor running. It ties in the back to make sure you get just the right fit for your girls.
This set also includes a crotchless mesh g-string for easy access. Once he sees you in this little get up you'll be happy there's nothing that can get in the way of your night of pleasure.
Adam & Eve 2-Piece Pearl Body Necklace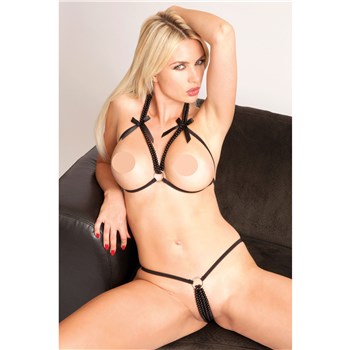 Part lingerie, part sex toy, this lingerie set is detailed with pearls, rings and fine ribbons, all to help accent his favorite parts of you. The stimulating pearl strands on the stretch waistband panty will tease you while you tease your man with the open cup pearl necklace bra. Enjoy true erotic stimulations while you wear the pearl panty under your clothes to really get you excited for the pounce. The panties multi strand pearls also part for easy access, whenever you want it.
The pearl bra top packages your breasts into the perfect little present. With bows at the tops, and pearls accenting your cleavage, this top is sure to be a hit.
Unforgettable Desires Crotchless 2 Piece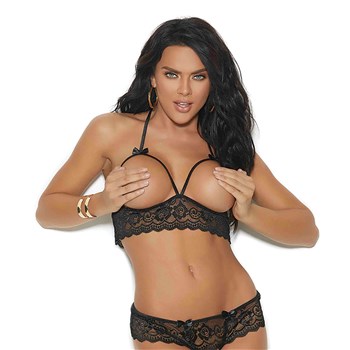 The Under His Control Chain Playsuit is perfect for adding a touch of kinky fun to even the most vanilla bedroom games. A stretchy, and strappy, elastic choker fastens behind your neck, and has a ring in the center that connects to three light-weight dangling chains. Two of the chains connect to the adjustable wrist cuffs that matches the strappy, stretchy choker, and the third chain attaches to the crotchless g-string panty. The wrists cuffs also stretch on easily; just tug them off when you're ready to remove them.
When putting on this lingerie set, step into the crotchless g-string first. You'll love how it leaves you open for any kind of frisky business. From there, the stretchy choker collar adjusts for a perfect fit. The chains dangle, but still leave you with plenty of room to move. So you can play in endless ways. Wear this lingerie set with your favorite pasties, or nipple jewelry to really help dress it up into the perfect sensual outfit.
Jayla Eyelash Lace Bra & Panty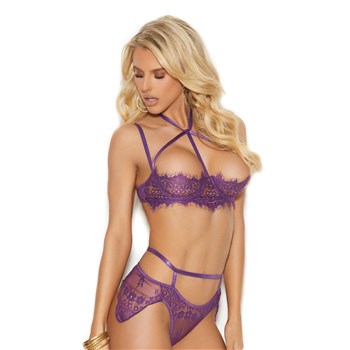 Get down and dirty with the crossed dame lingerie set. This set comes with a criss cross strappy top, that will really make your cleavage pop. The top velcros around your neck and mid back to help adjust to the perfect fit, and leaving the rest completely bare.
The Crossed Dame mini skirt also features revealing straps on the sides, and is completely open in the back to show off all of your assets. The skirt also features adjustable garters that attach to the hem so you can wear the skirt with, or without your favorite pair of stockings. Stockings are not included with this outfit. The crossed dame top and skirt are made from a special blend of polyester and spandex, which gives it that wet look, and provides a four way stretch so you can make any position comfortable.
Monique Bra And High Waisted Gartered Panty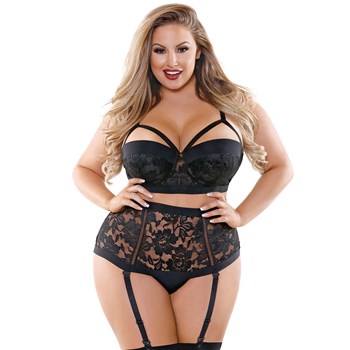 This vintage style bra and panty set will having you feeling vivacious, cage style straps flash extra cleavage, while the underwire and light padding add that extra boost for some lift and added shape. The soft, stretchy high waist panty is all lace on top. The high waist adds some gentle extra support to help feel more comfortable and confident. This lingerie set specializes in the plus size woman so this outfit can easily be adjusted in the shoulder straps, and the back has hook and eye closures to help give some extra support, and will help provide a great fit. Removable garter straps make this bra and panty set easy to wear with, or without your favorite stockings.
Remy Lace Bralette & Panty Set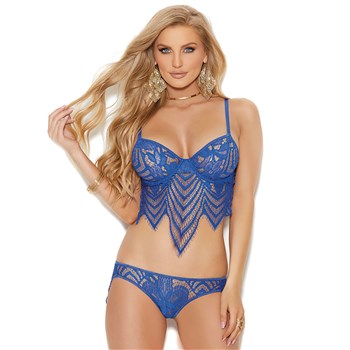 Slip into this red hot lingerie set and watch your lover's jaw drop.
This bra and panty set is ideal for women who love showing off their cleavage. The softly padded Balconette Bra makes sure your girls get the attention they deserve. The underwire lining helps to lift and separate your breasts to make your cleavage pop, while the low-cut bra gives your lover an eyeful. The bra top comes with adjustable, or removable shoulder straps, so you can wear it with just about anything. A hook and eye closure in the back also allows for easy adjustment. Trimmed in lace with a special high leg cut to show off your legs and your backside, the panty also features a shiny satin front with a mesh back.
Please note that the plus-size version of the bra is specially modified with a wider band for a more comfortable fit and extra hooks for additional support.
Unwrap Me Bra & Crotchless Panties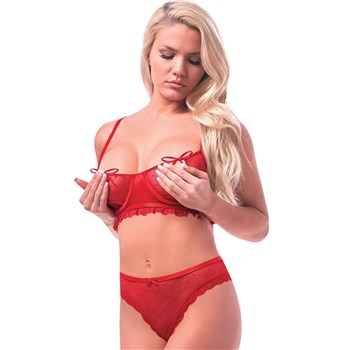 Show off your sweet and not-so-innocent side with this sparkling white lingerie set that's ideal for special occasions.The thigh-high stockings hug your legs like a second skin, making them look longer and smoother than ever. The tube top bra is made of stretchy floral lace, with shimmering silver details. The bra features an O ring in the center to accent your cleavage and ties behind your neck for additional support.
The bottom half of this lingerie set combines the panty, and garter belt. The panty also has intricate floral lace in the front, and sides, giving the panty that sexy low-rise look. The lingerie underwear also features sexy strips along the sides that criss-cross in the back to really show off your bottom. Just attach your thigh high stockings to the garters to complete this lingerie set, and let the fantasy begin.