TAKE CONTROL OF THE MOOD WITH THE SEXIEST PLUS SIZE LINGERIE WITH YOUR LOCAL ADAM & EVE | Fredericksburg, VA
Do you want to surprise your partner with an evening of romance that will make them desire your curves more than ever? Or do you simply want to find the sexiest lingerie that will make you look amazing from every angle? You came to the right place, scroll down and discover our plus size fitting bras, panties, crotchless panties, body stockings, corsets, bustiers…
RED HOT PEEK A BOO BABYDOLL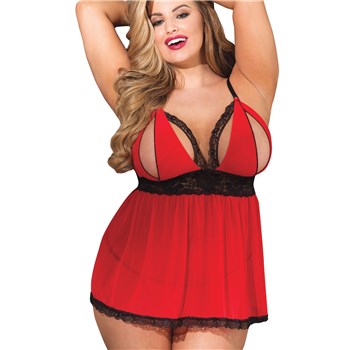 This Sensual Dress Will Allow You To Show Off Your Assets Without Reveling Too Much Allowing You To Set The Pace And Take Control Of The Rhythm Of Your Passionate Night. With Its Revealing Cups And Its Matching G String This Dress Will Allow You To Undress Slowly So You Can Build Up The Pressure. The Dress Is Made Out Of Nylon And Elastane For Optimal Stretch, So You Feel Comfortable In Very Single Position. Don't Wait Any Longer And Start Planning Your Next Passionate Romance.
LOVE AFFAIR HALTER BABYDOLL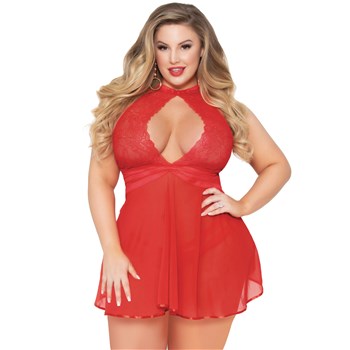 This Sexy Lingerie Is One Of Our Best Sellers, And At First Glance You Can Understand Why.With Its Diamond Shape Cleavage And Neck Choker, This Dress Will Create The Spark In Your Partners Eye. But Once You Step Closer You Can Realize The Full Potential Of This Dress With Itsfloral Details, Its Flyaway Back And Its Satin Ribbon Hemline, This Dress Is Simply Gorgeous. No Detail Has Been Overlooked, The High Neck Is Easy To Close With A Simple Hook And The Inviting Reviling Back Is Stunning.Our Plus Size Lingerie Is Designed To Accentuate Your Voluptuous Curves So You Can Look More Gorgeous Than Ever. So Don't Look Any Further, Your Partner Will Thank Us.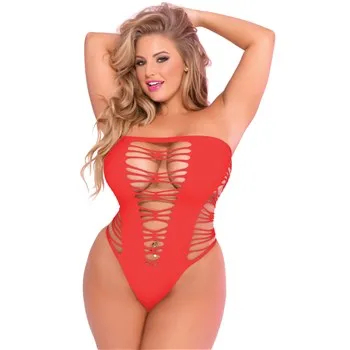 Are You Looking For Something More Provocative To Add Some Spice In Your Sex Life? This Teddy Is Exactly What You Are Looking For, It's Super Stretchy Tight-Fitting material Will Follow Your Curves And Display Your Juiciest Assets In All The Right Ways. With Its Revealing Front And Back No Matter Where You Stand You Will Look Stunning And Voluptuous. Our Plus Size Lingerie Is Designed To Make Women With Defined Curves Look More Gorgeous Than Ever And Sure Of Themselves.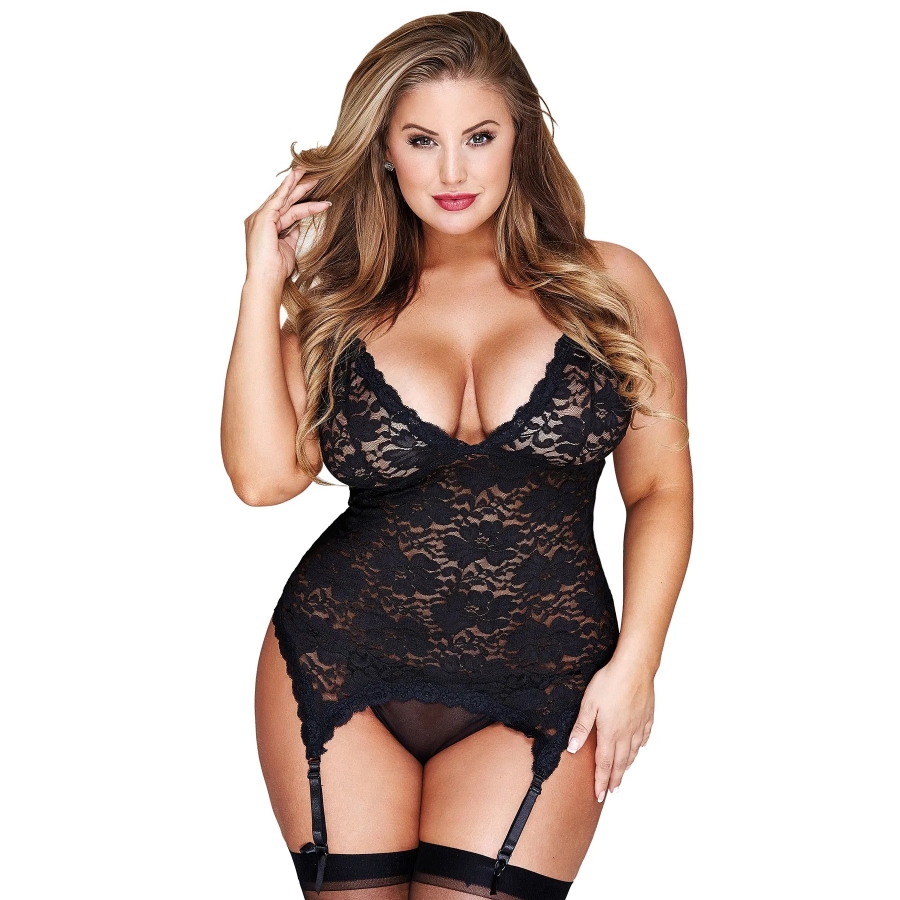 Our Luscious Lace Bustier Will Bring Back A Vintage Seductive Feeling To Your Bedroom.There Is No Match For The Simple Beauty Of Vintage Garters. Your Partner Won't Be Able To Resist To This Sexy Floral Bustier With A Low Collar To Show Of Your Cleavage And An Open Back To Display Your Figure.This Plus Size Lingerie Bustier Has Been Specially Designed For Voluptuous women And Will Let Your Body Express All Of Its Sensuality In The Classiest Of Ways.
CRISS CROSS LACE MINI SKIRT WITH GARTERS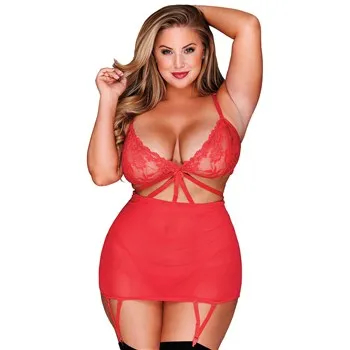 Our Lace Mini Skirt With Garters Will Not Let You Go Unnoticed. Its Flaming Red Color Will Entice Everyone In The Room And Will Help You Create The Perfect Conditions For A Passionate Night. The Floral Embroideries Show The Elegant Combination with Your Sensual Cleavage While Giving Perfect Support. The Garters Will Let Your Partner Discover Your Body While Leaving room For Fantasy. It Also Comes With The Matching G-String Panty. We Provide The Lingerie And You Will Take Care Of The Rest.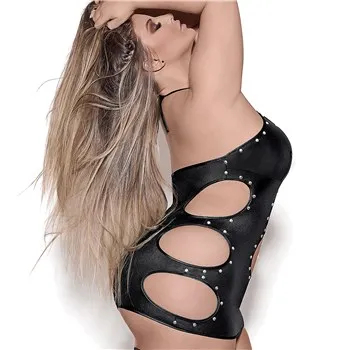 Ready For Something More Radical? Our Kinky Selene Studded Dress Will Make Sure Your 50 Shades Of Grey Fantasies Will Be Fulfilled. No Detail Has Been Left Out, If You Look Closely You Will See Metal Details That Give This Dress A Seductive Ravaging Look. With A Four Way Stretch Material That Looks Like Leather You Will Command Authority,And Unlike Real Leather This Material Will Stretch In Every Position So You Can Be Sure that It Will Make Your Silhouette Will Be Perfectly Defined. We Will Leave The Choice Of Accessories To You And Your Fantasies.