The Rabbit Vibrator | Fredericksburg, VA
What You Need To Know About The Rabbit Vibrator
There's a reason why the rabbit vibrator has gotten so much attention—the design offers maximum pleasure by stimulating multiple erogenous zones. Sure, they have gotten lots of attention in movies and on television, too, but that exposure is backed up by clitoral and G-spot stimulation that thousands of women swear by. In case you didn't know, the rabbit vibrator gets its name from the rabbit-like ears that provide a tickling sensation to the clitoris. But that isn't all that this style of vibrator can provide you. There are options with a rabbit vibrator that will stimulate the G-spot, like a curved tip, or rotating beads that offer another form of vaginal stimulation. Some even include all of these arousal opportunities, as well as a part to stimulate the anal area, making this style of vibrator a triple threat ready to take on your every desire. The rabbit vibrator is truly a multi-purpose tool to add to your arousal arsenal. Here are five of our top selling rabbit vibrator options for you to explore.
A&E Silicone G-Gasm Rabbit Vibrator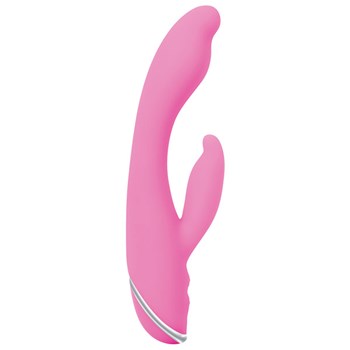 Not only does this rabbit vibrator offer clitoral and G-spot stimulation, it also provides dual motors in both its G-spot tip and clitoris tickler. The flexible silicone shaft is waterproof and fully submersible for bath and shower fun. This rabbit vibrator option has a 1.25-inch wide shaft and can be inserted up to 6 inches with an instant on/off button that lights up so you know it's on, in addition to a second button for selecting vibration and speed choices.
Seven different modes of vibration allow you to control the escalation of sensation to bring you to your ultimate orgasm.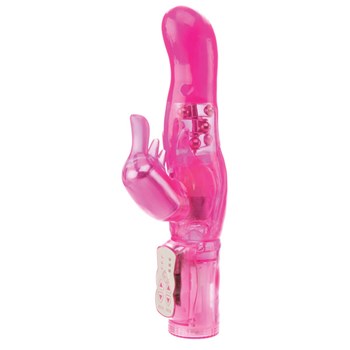 When one or two erogenous zones simply aren't enough, this rabbit vibrator works to stimulate three areas for a more complete and fulfilling orgasm. This rabbit vibrator has a tip designed just for your G-spot, with a curve that is angled to maintain contact, even when your body starts to move from the stimulation, and a tip that rotates providing even more sensual pleasure.
The third stimulator focuses on the clitoris, creating a trifecta of orgasmic potential. Two separate motors provide three vibration and rotation levels, allowing a customized experience. Measuring 1.5 inches wide, this rabbit vibrator is insertable up to 4 inches and is waterproof for pleasuring you wherever the mood strikes you.
Fifty Shades of Grey Greedy Girl G-Spot Rabbit Vibrator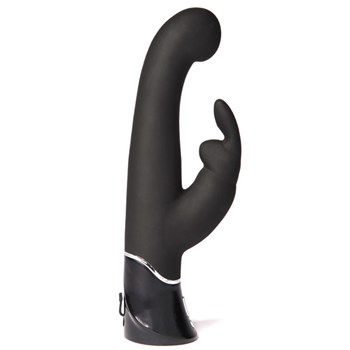 Bring the passion of the oh-so-sexy movie into your own bedroom with this over-the-top, aims-to-please rabbit vibrator. The shaft alone offers 12 different vibration levels that work in conjunction with the three vibrator speeds of the bunny ears to help you achieve your wildest orgasm ever. The flexible silicone shaft is 1.5 inches wide and can be inserted up to five inches.
Rechargeable through a USB port, once fully charged, you can take your pleasure wherever you want, controlling the powerful vibration levels with two separate motors. Christian Grey or no, you are well on your way to a cinematic climax with this special rabbit vibrator.
My First Jack Rabbit Vibrator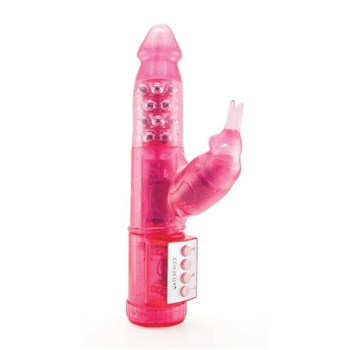 Not sure that a rabbit vibrator is right for you? This version is the perfect way to try out a rabbit vibrator without making a huge investment. An affordable option that doesn't skimp on stimulation, the My First Jack Rabbit Vibrator features a shaft that is can be inserted up to 6.5 inches with rotating and swirling pleasure pearls for even more intense stimulation to your erogenous zones.
The easy to screw-in and -out battery pack makes recharging easy on this waterproof model, so you can go anywhere to find your bliss. Simple push buttons make controlling the speed of the vibrator and the rotation of the shaft simple so you can focus on achieving mind-blowing orgasms every time.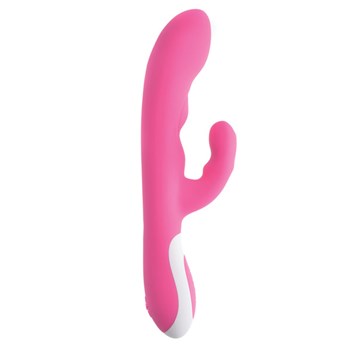 This rabbit vibrator option goes one step further in its efforts to help you achieve your ultimate orgasm with a shaft that is heated to make you even more hot and bothered. Let the arousing 107.6 degrees warm you gently from the inside, while the curvy G-spot tip and powerful clitoral stimulator of this rabbit vibrator take you to the next level of sensual pleasure.
The vibrating shaft comes with five different levels of vibration, as does the vibrating clitoral stimulator. Independent controls allow you to adjust the two levels of vibration to suit your needs for the ultimate in climaxes. The silicone rabbit vibrator has a 1.3-inch wide G-spot tip and can be inserted up to 4.5 inches. Additionally, it is waterproof and comes with a USB charging cable.